Brand: Elvex®
Model: EP-412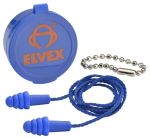 Description: Quattro™ reusable earplugs
Size: N/A
Colour: Blue

Features & Benefits:
A four flange design that allows this earplug to fit almost all ear canals.
An ultra-soft polymer (TPR) provides a comfortable and effective seal.
TPR is non-allergenic and non-irritating to the sensitive skin in the ear canal.
Material is resistant to ear wax and body oils, it will outlast PVC earplugs and provide all-day comfort.
A sturdy and stiff handle that allows an easy grip for insertion and removal.
Noise reduction rating (NRR) 27 dB.
Nylon braided cord allows earplugs to be stored conveniently around the neck in between uses and prevents earplugs loss.
Wash and reuse for weeks without losing its attenuation and effectiveness.
Plastic carrying case and chain may be attached to belt loop, bag or other work tools.
Standard:
ANSI S3.19-1974
CE EN352-2 Hearing protection : Earplug
34 SNR: Standard noise reduction
H = 33: High frequency attenuation
M = 32: Medium frequency attenuation
L = 30: Low frequency attenuation
Approved by Hong Kong Labour Department