Brand: Moldex®
Model: 6405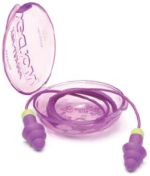 Description: Rockets® reusable earplugs
Size: N/A
Colour: Blue/Yellow

Features & Benefits:
100% PVC-Free.
With an noise reduction rating (NRR) 27 dB., the Rockets® earplugs provide serious protection for most noisy environments.
Rockets® earplugs are designed to give you a great grip. The easy grip handle lets them easily slip into the ear and it's brightly colored for compliance checks.
Soft, flexible flanges provide a superior seal and fit most size ear canals.
The air bubble in the tip provides cushioned comfort for all-day wear.
Rockets® earplugs can be washed and reused.
Corded design allows earplugs to be stored conveniently around the neck in between uses and it helps to minimize loss of earplugs.
Pocket-Pak® carrying case provides hygienic storage of plugs between uses. The smooth shape slides easily into your pocket. No sharp edges.
Standard:
ANSI S3.19-1974
Approved by Hong Kong Labour Department