Brand: Elvex®
Model: HB-35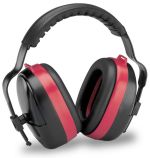 Description: MaxiMuff™ earmuff
Size: N/A
Colour: Black/Red

Features & Benefits:
High performance earmuff with ABS ear cup and PU foam absorber, providing hearing protection in the most challenging environments without sacrificing comfort.
Rugged, fully dielectric construction protects workers from electrical shocks and shorts.
Comfortable, yet tough unbreakable multi-position Acetyl headband.
Self-aligning suspension on headband for quick fitting and adjustment.
Exclusive ELVEX® "smart fold-out" design, muffs fold-out and rest comfortably around neck when not in use.
Soft, pliable SuperSeal™ PVC ear cushions are long lasting and resist body oil and sweat.
Multi-position use with or without optional #SS-25 support strap for compatibility when worn with other helmets.
Noise reduction rating (NRR) 28 dB.
Standard:
ANSI S3.19-1974
CE EN352-1 Earing protection : Ear-muff
30 SNR: Standard noise reduction
H 32: High frequency attenuation
M 28: Medium frequency attenuation
L 18: Low frequency attenuation
Approved by Hong Kong Labour Department

Accessories:
Model: SS-25
Description: Optional support strap to convert ValueMuff™ and MaxiMuff™ earmuff for behind the head use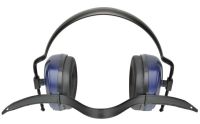 HB-25 with SS-25