Brand: Peltor™
Series: Optime™ 95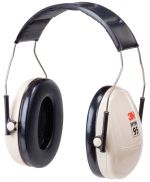 H6A/V
Description: Low profile earmuff
Size: N/A
Colour: White
Model:
#H6A/V (Headband)
#H6B/V (Neckband)
#H6F/V (Folding headband)

Features & Benefits:
Lightweight Optime™ 95 earmuffs feature very low profile ear cups that fit well with most helmets, eyewear and other safety equipment.
Patented liquid & foam-filled cushions and broad soft rings are the ultimate for a better seal (even with eyewear) and better comfort.
Simple height adjustment.
Ear cup pivot-points allow wearers to tilt and adjust ear cups for optimum comfort and efficiency.
Wide ear cushions for comfort.
Stainless steel construction resists bending and warping.
Recommended for loud noise levels up to 95dBA.
Noise reduction rating (NRR) 21 dB.
Model #H6A/V – Headband design for traditional Over-the head wear, padded wide headband with four-point steel suspension band cushions head while suspension distributes pressure for extra comfort and fits most facial profiles.
Model #H6B/V - Neckband design for Behind-the-head wear that it will not interfere with safety helmets, stainless steel neckband wires with 4-point suspension helps distribute cushion pressure evenly.
Model #H6F/V – It has the same features as model #H6A/V, additional folding design for easy storage & pocket size portability.
Standard:
ANSI S3.19-1974
Approved by Hong Kong Labour Department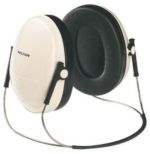 H6B/V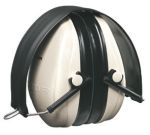 H6F/V